HEKLER MEDIUM: War, Memory, Protest
October 13, 2018 * 6-9pm * De-Construkt [projekts], Red Hook, Brooklyn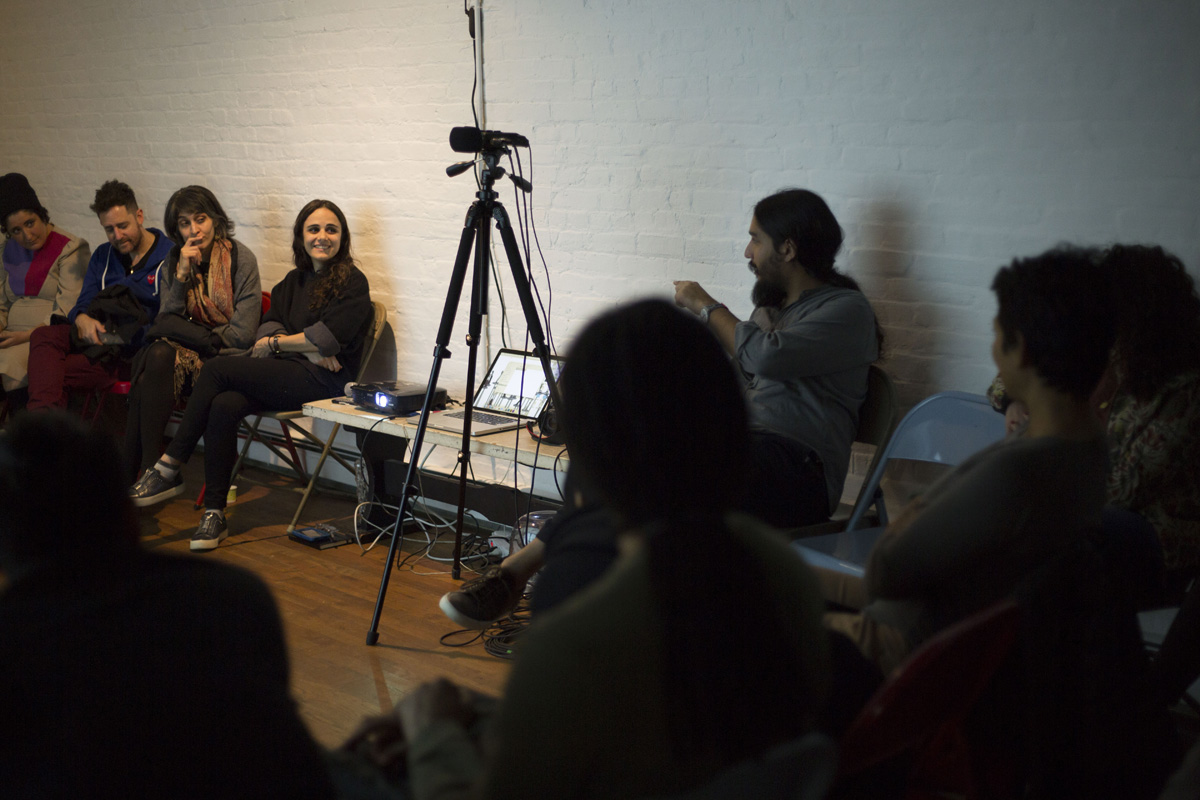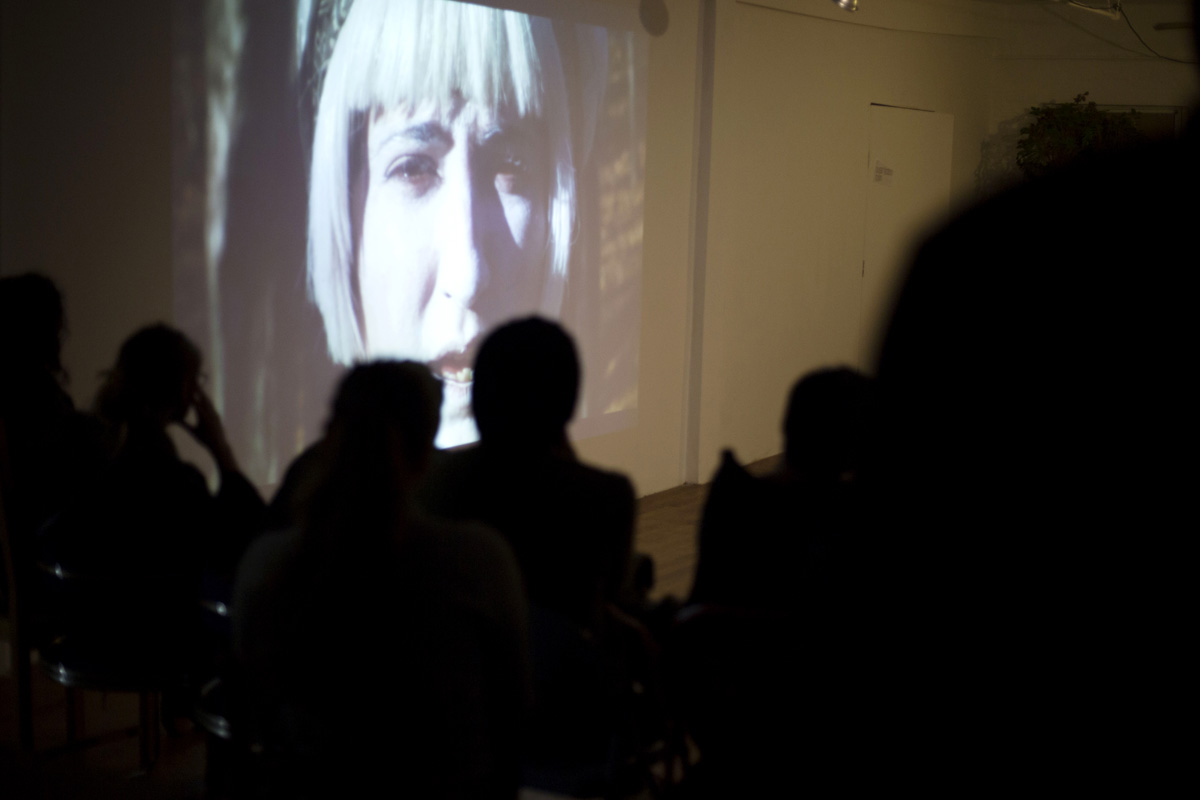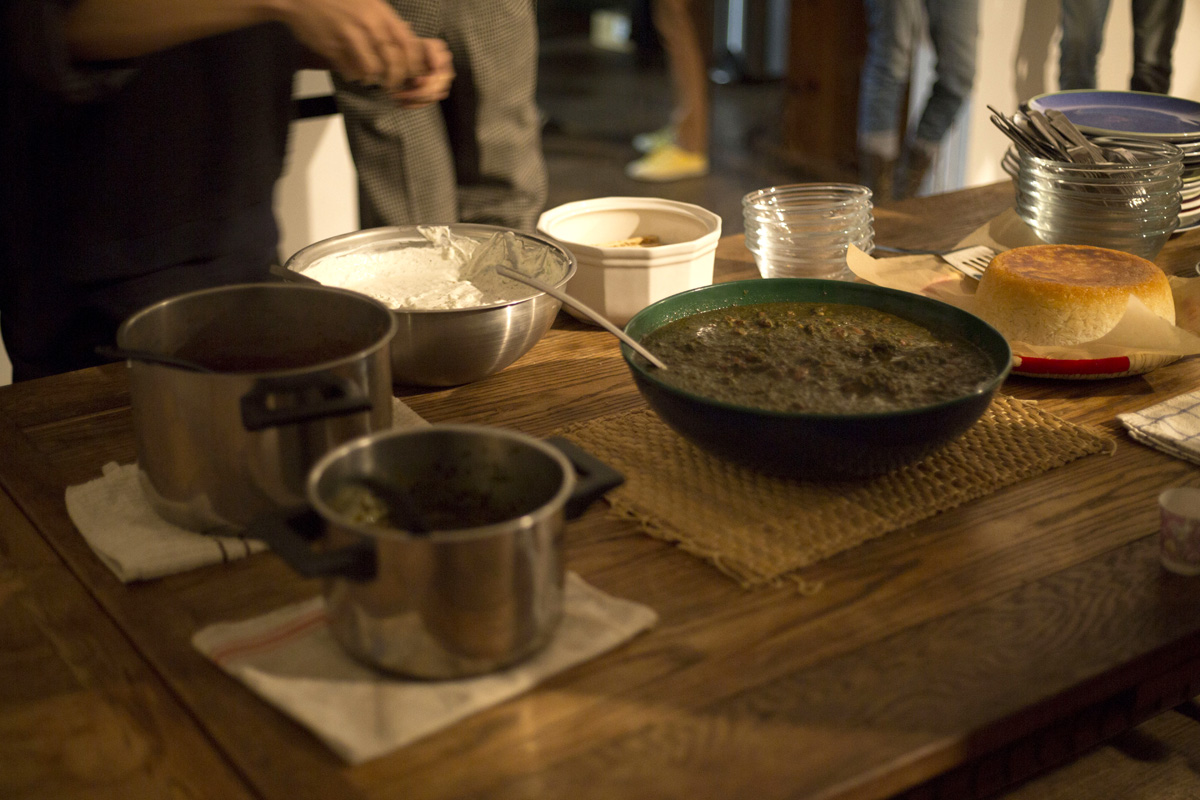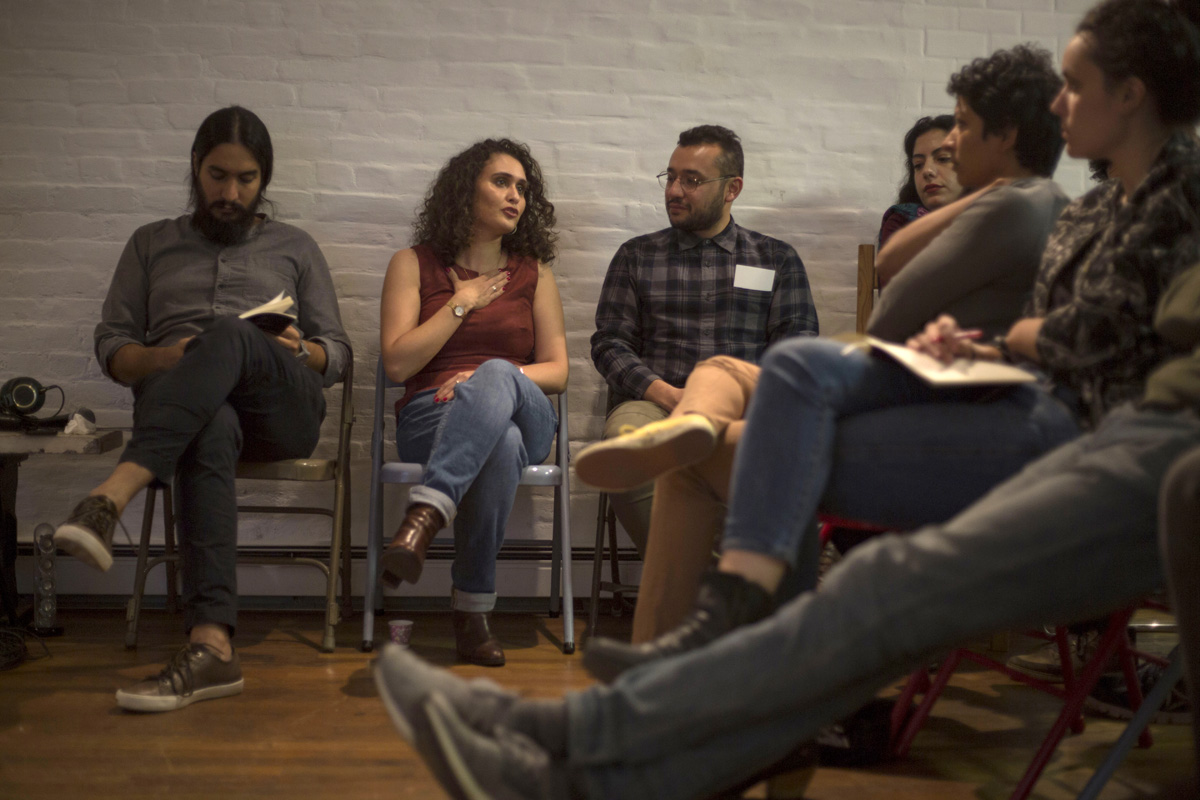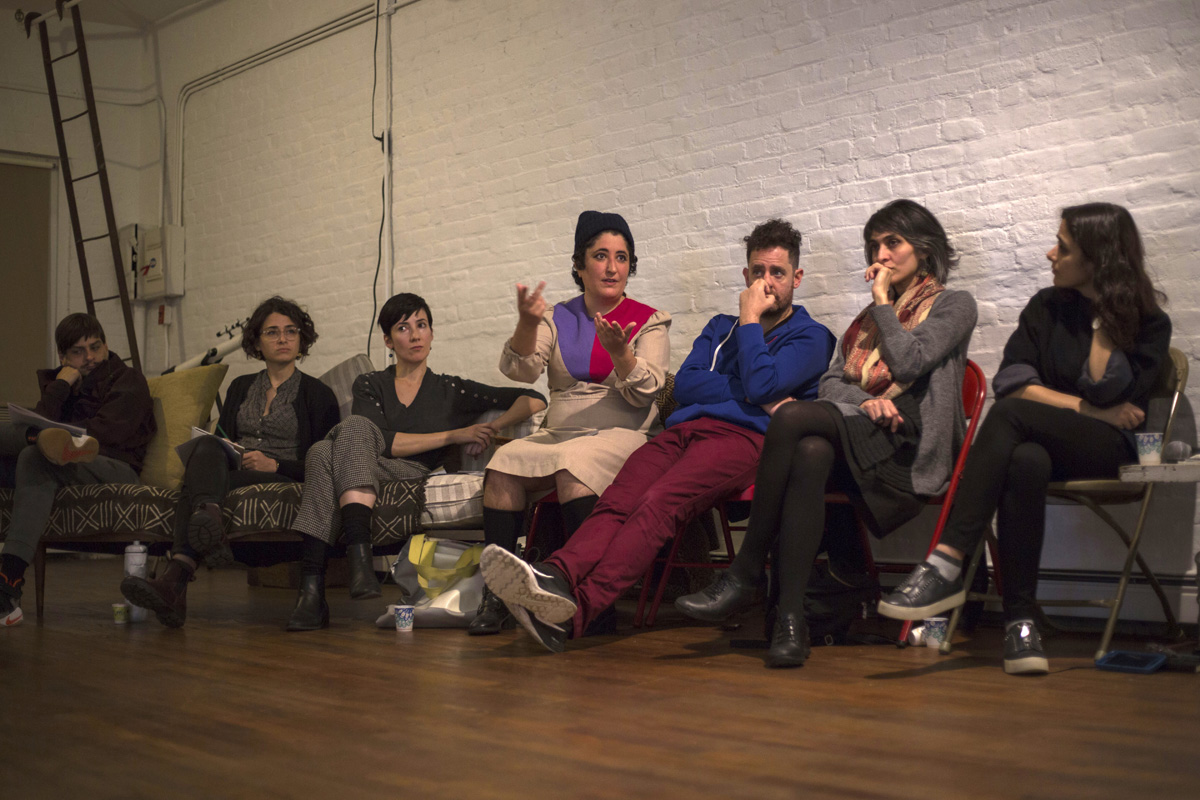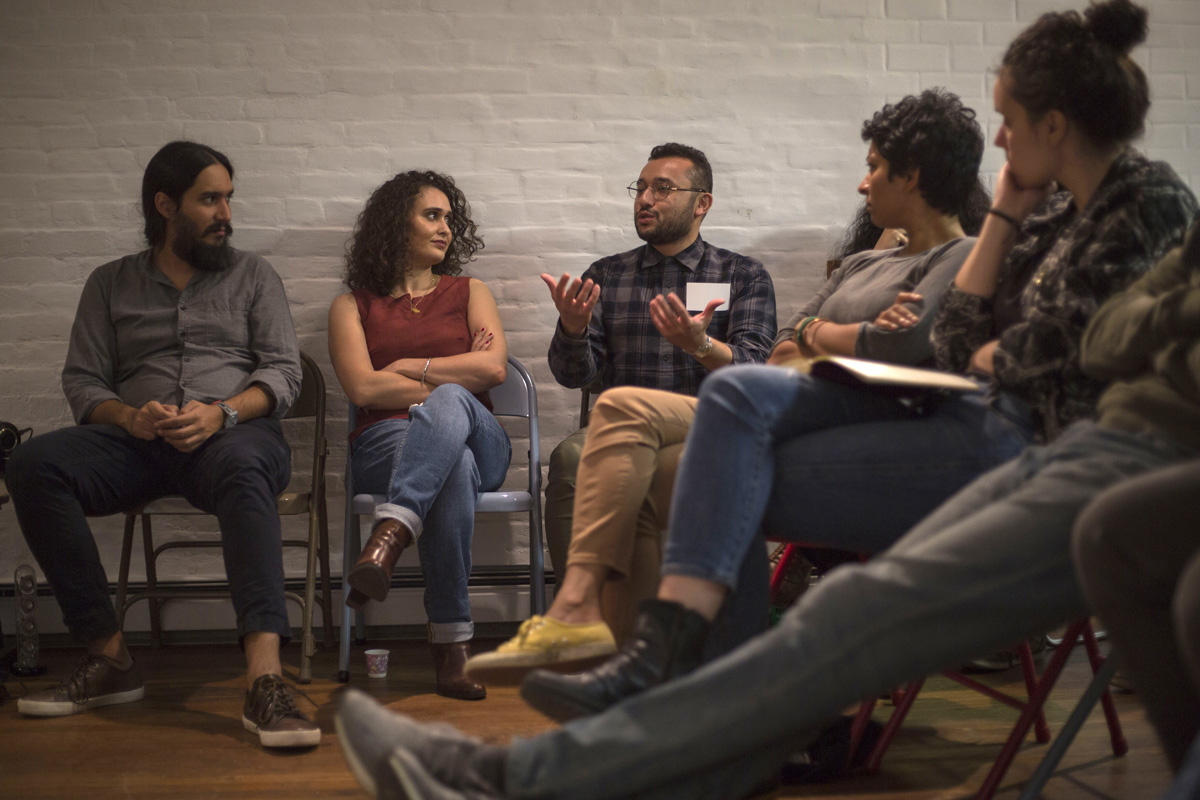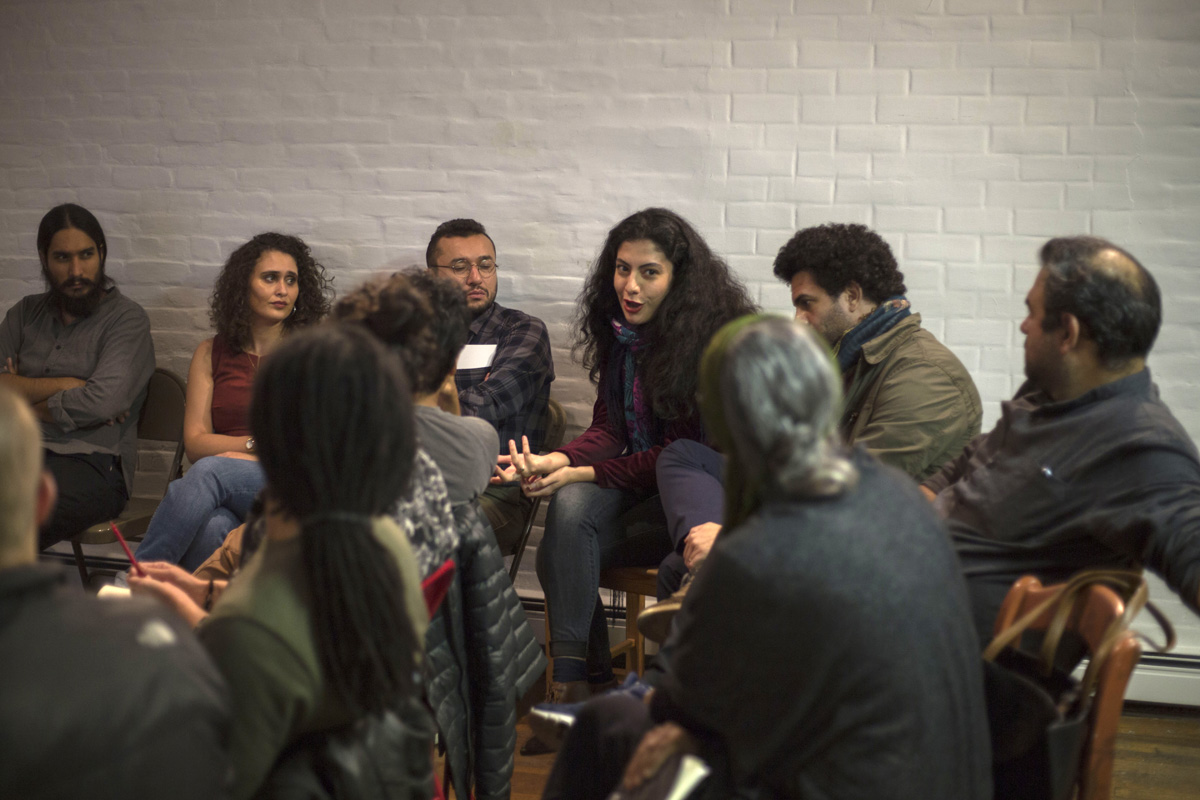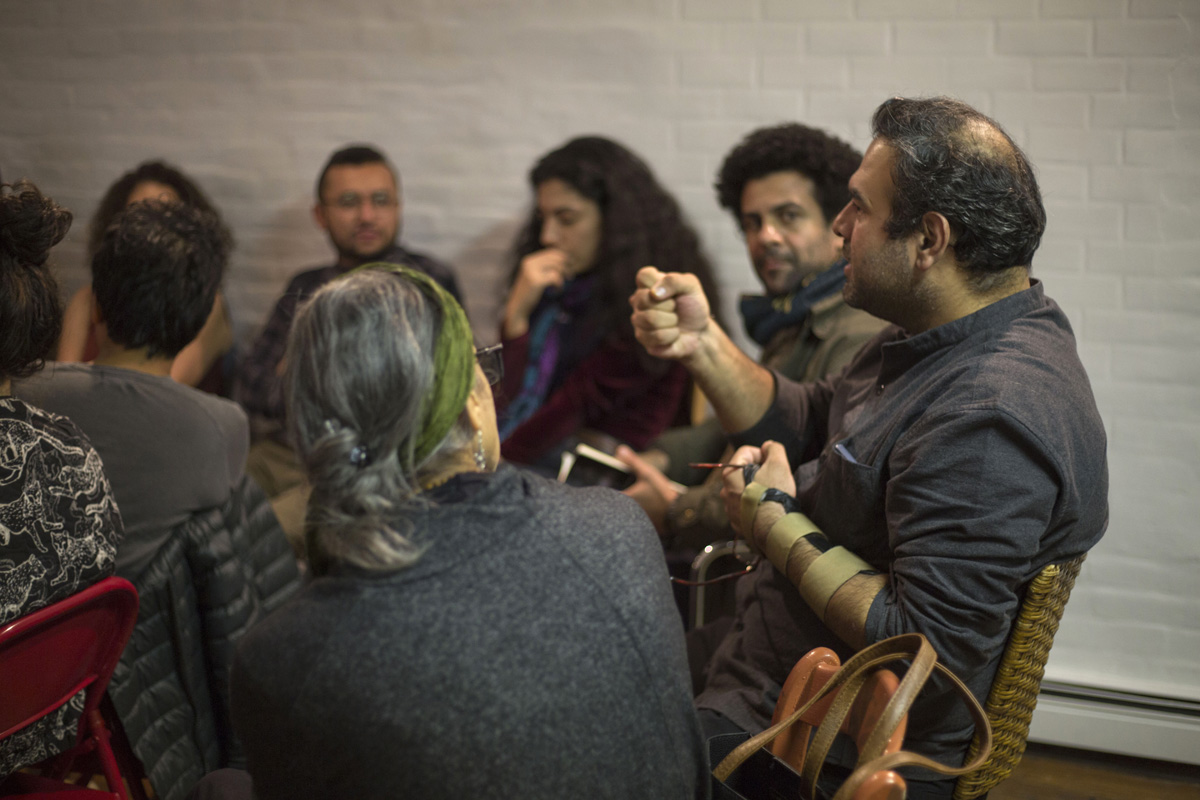 Photo Credit: Francesca Tirpak
The first of HEKLER Medium: War, Memory, Protest event series took place on Saturday, October 13, 6-9 pm at De-Construkt [projekts] in Red Hook (41 Seabring St). The roundtable conversation organized in collaboration with Farideh Sakhaeifar and Sadra Shabab focused on exhibited artworks that examine the relationships between the economy of war and the visual culture.

The event started with a short introduction about HEKLER and the series, followed by the screening of videos and photography by Bisan Abu Eisheh, Saba Alizadeh, Sahar S., and Mandana Mansouri. After the screening and leading to the discussion, guests were served traditional Iranian dish Ghormeh Sabzi prepared by Farideh and Sadra. Moderated by Manijeh Nasrabadi and Zahra Ali, the conversation open to participants in the attempt to deconstruct a hierarchical structure between the speaker and the audience creating an environment where everybody has a chance to reflect upon and discuss questions provoked by the presented projects and provided readings. Below you can find more information about individual artists and presented work as well as the HEKLER Medium: War, Memory, Protest syllabus.
HEKLER Medium: War, Memory, Protest was accompanied by the zine designed by Jelena Prljevic which is available below.
ARTISTS
Bisan Abu-Eisheh
Bisan Abu-Eisheh (1985) is a Palestinian artist from East Jerusalem. He is a PhD candidate at CREAM PhD programme at the University of Westminster and holds a M.A. form Central Saint Martins and the B.A. from the International Academy of Art – Palestine. He currently lives between Glasgow, London and Jerusalem.
Bayt Byoot Playing House is an installation of a collection of pieces Bisan gathered from demolished houses in East Jerusalem. They range from objects of daily and personal life, such as pieces of clothing, kitchen utensils, and CDs, to parts of the architecture, such as granite, wood, and pipes. The pieces are presented in museum-like vitrines, each with a label describing where it comes from, the date of the demolition, and the number of people displaced from each house. Also, included in each vitrine, a detailed map of Jerusalem that links each of the objects with the neighborhood where it was collected from and a video of an explosion of the demolition of a five-story building in Beit Hanina, a Palestinian neighborhood in East Jerusalem.
The video screened at HEKLER Medium: War, Memory, Protest - Playing House - The shoe, focuses on exploring narratives related to the collected items and their intimate relation with their owners. This video particularly is about a young boy who lost his favorite shoe while his house was being demolished by the Israeli Authorities.
Selected Group Exhibitions: Jerusalem Lives, The Palestinian Museum, Birzeit, Palestine (2017). Don't You Think It Is Time For Love? MMoMA, Moscow, Russia (2016). Jerusalem Show VIII: Before and After Origins, Jerusalem, Palestine (2016). Greetings to Those Who Asked About Me, CIC, Cairo, Egypt (2015). Eva International: AGITATIONISM, Limerick, Ireland (2014). Hiwar "conversations in Amman", Darat Al Funon, Amman, Jordan (2013). Points of Departure, ICA Gallery, London, UK (2013). The 12th Istanbul Biennial: UNTITELED (2011).
He has programmed Hospitalfield's Summer School: Fieldworks 2016, under the title "Not Every Tent is The Same", Arbroath, Scotland. He has performed in several art events including: Bitter Rose Project part of Glasgow International 2016, Glasgow, UK. Friday Late night at V&A museum, London, UK (2012).
Selected Residencies: Art OMI, NY, USA (2018) Culture + Conflict Artist in Residence at the Liddle Hart Colonial archive, Kings Collage, London, UK (2016/17). Künstlerhaus Büchsenhausen International Fellowship Program for Art and Theory, Innsbruck, Austria (2015). AIR Antwerpen residency program, Antwerp, Belgium (2014/2015).Hiwar "Conversations in Amman" at Darat al Funon Foundation, Amman, Jordan. (2013). Radio Materiality at Vessel Art Project, Bari, Italy (2013). Points of Departure at The Delfina Foundation (2012).
Mandana Mansouri
Mandana Mansouri is an artist who works with still and moving images, language, performance, and site-specific installations. Her work is concerned with bare-life, power, production of space,displacement, and visibility. In her recent body of work, A Machine for Living in, Mansouri references the subject of labor exploitation and the visibility of Afghan refugees in Iran, both in the white cube and on the cityscape. For this series, Mandana shared the photo documentation of the site-specific installation A Machine for Living in.
Mansouri was born in Kermanshah, Iran, in 1982, and currently works and lives in Vancouver. She holds a Bachelor's degree in Architecture from Azad University, Qazvin, a Master's in Urban Design from Azad University, Tehran, and is currently an MFA candidate at the University of British Columbia,Vancouver. Her work has been included in recent exhibitions at the University of British Columbia,Vancouver; Gallery 1515, Vancouver; and Azad Art Gallery, Tehran. Mansouri has collaborated with art collectives such as Photocopy, New Media Society, Architecture Urbanism Circle in Tehran. She used to work as an architect/urban designer for more than ten years, in this essay she articulates her personal narrative and experience of the production of residential spaces in Tehran.

Saba Alizadeh

Saba Alizadeh born in Tehran 1983, is a photographer, performer and composer. Alizadeh holds a BFA degree in photography from Azad university in Tehran and an MFA in Music Composition from California institute of Arts. Saba is an internationally acclaimed photographer. His "Light & Soil" series has been exhibited in different cities such as London, Washington D.C., Paris, Moscow,Tehran and festivals such as Arles photography festival in France. Saba as a musician in the experimental realm in which his pieces tend to have a theatrical element. Alizadeh's compositions evoke both the personal and the political through the use of mixed media, electroacoustic processing and improvisation.
Sahar S.
Magic Meadow Baba (performing white clown)
I created this video for my father, as a way to document one of the many stories of his life as a refugee immigrant. My mother and I came to the U.S. during the Iran Iraq War, from Iran, in the 80's. My father spent many years trying to reach us. This was the last and first film I made with my father. He was very ill during the filming. I shot the green screened section in a meadow called Magic Meadow in Upstate, NY. My father was too ill to come along so I transported his body via, the screen. I never really finished editing this video. Like our lives together I never will. It is a sentiment and a gift to have this documentation. Which, I performed in a surreal realization of my own relationship to these stories and language as a first generation American.
As a way to understand the parallels between our struggles as immigrants and how we are constantly translating our stories through one another, I wanted to write a script and decided to transcribe his words instead. I worked through repetition, in revisiting feelings of displacement, empathy, and understanding. My father lived in many countries, was homeless, stateless, and went to prison. He tells these stories from the perspective of a survivor, who understands the depths of humor and sensuality.
Sahar S. is concerned with the virtual self as a metaphorical space of translation, where diasporic displacement meets object orientation and new approaches to time and space. Her work is time based, utilizing video art, AR, sculpture, performance and installation. She builds and inhabits worlds that look to political modes of deconstruction, as ways to activate her audience in what she hopes are self-reflexive and affective moments of recognition, of self and society. Her practice is very much based in language.
Sahar is currently a graduate candidate at School of the Art Institute of Chicago. She has shown at Spectacle Theatre, Eyebeam, and Pulsar. She has performed at The New Museum as part of My Barbarian's PoLAAT Intro: Post Paradise residency, Judson Memorial Church for Jessica Posner's Body Butter Politics and Performa NYC for Lior Shivl' s Protocols at Art in General. Her work was featured in a group show at Bronx Art Space called For Us in the Spring, which was written about in Art Forum. She also curates an ongoing digital arts show called Digital Diaspora, which features artists from all over the world, within the Islamic Diaspora, centering Black Muslim Artists.
Sahar' response to HEKLER Medum: War, Memory, Protest can be read here.
MODERATORS
Manijeh Nasrabadi
Manijeh Nasrabadi is assistant professor of Women's, Gender and Sexuality Studies at Barnard College. Prior to joining the Barnard faculty, she was a University of California President's Postdoctoral Fellow in Asian American Studies at UC Davis and an Andrew Mellon Postdoctoral Fellow in Comparative Revolutions at Brandeis University. She received her PhD in American Studies from NYU and her MFA from Hunter College, City University of New York. She is the former co-director of the Association of Iranian American Writers. Her book, Neither Washington, Nor Tehran: Iranian Internationalism in the United States, is forthcoming from Duke University Press. Her essays and articles have appeared in the Routledge Handbook of the Global Sixties, Scholar & Feminist online, Women's Studies Quarterly, Comparative Studies of South Asian, Africa, and the Middle East, Social Text online, jadaliyya.com, and Callaloo. She is a founding member of the Raha Iranian Feminist Collective.
Her research focuses on political cultures of the Iranian diaspora in the U.S., tracing generational shifts in subjectivity, transnational activism, and cultural production across the historical arc of U.S.-Iran relations. Her methodological approach takes seriously memory, affect and emotion as an archive of marginalized knowledges, gendered histories and diasporic identity formations that can disrupt assimilation and produce alternatives to heteronormative model minority subjectivity.
Recent Literary Non-fiction and Journalism:
The Weight of the Skies: An Iranian revolutionary journey in the U.S. Spring 2014.
Bi Taarof: A magazine of Iranian American Arts and Culture
Tremors: New Fiction by Iranian American Writers. Book review. August 2013. Jadaliyya.com
New Perspectives on the Anti-War Movement. May 2012. Jadaliyya.com
Letter from Tehran: Interview with Iranian Feminists. June 2011 Jadaliyya.com
Finding Our Voices: New Writers from the Post-revolution Generation. May 2009. TehranBureau.com
A Far Corner of the Revolution. Callaloo (Winter 2009) 32 (4): 1198–1207.

Zahra ALI / د. زهراء علي
Zahra Ali is a sociologist, her research explores dynamics of women and gender, social and political movements in relation to Islam(s) and the Middle East and contexts of war and conflicts with a focus on contemporary Iraq. She is an Assistant Professor of Sociology at Rutgers university. Her book Women and Gender in Iraq: between Nation-building and Fragmentation published by Cambridge University Press, is a sociological study of Iraqi women's social, political activism and feminisms through an in-depth ethnography of post-2003 Iraqi women's rights organizations and a detailed research on Iraqi women's social, economic and political experiences since the formation of the Iraqi state.
She also co-edited the journal volume Pluriversalisme Décolonial with Prof Sonia Dayan-Herzbrun (Kimé, 2017) that explores decolonial theories reflecting on non-eurocentric epistemologies, aesthetics, political thoughts and activisms. The volume draws on Latin American and Caribbean philosophies, concepts of creolization and racialization and explores Afropean aesthetics, arts and cultural productions, religion, feminisms, fashion, education and architecture. Zahra Ali also edited Féminismes Islamiques (La Fabrique editions, 2012; translated and published in German Passagen Verlag, 2014) that reflects on transnational Islamic/Muslim feminisms through a postcolonial and intersectional feminist perspective analyzing the interrelationship between race, gender, religion and postcoloniality.

SYLLABus:
Women and Gender in Iraq: Between Nation-Building and Fragmentation by Zahra Ali
Reading Fannie Lou Hamer in Tehran: Amitis Motevalli's Queer Art of Afro-Asian Solidarity
by Manijeh Nasrabadi
Washington Post: Women's Rights are Under Threat in Iraq by Zahra Ali
Jadaliyya: Reflecting on Multiple Fragmentation in a City of Men by Zahra Ali
Open Democracy: Iraq's Protest Movement Reveals the Failure of the Iraqi Regime by Zahra Ali and SAFAA KHALAF
Demolished lives: art created from Palestinian ruins, Sophie Gorman interviews Bisan Abu-Eisheh
Reports on houses demolition from Al-Maqdeses Institutions for Society Development
Statistics from the Israeli Information Center for Human Rights in the Occupied Territories
https://www.btselem.org/planning_and_building/east_jerusalem_statistics
https://www.btselem.org/punitive_demolitions/statistics
https://www.btselem.org/razing/statistics
Hollow Land: Israel's Architecture of the occupation by Eyal Weizman
The Wretched of the Earth by Frantz Fanon

The End of the Peace Process: Oslo and After by Edward Said
Black Quantum Futurism: Theory & Practice (Vol. 1), edited by Rasheedah Phillips with contributors Moor Mother Goddess, Warren C. Longmire, Almah Lavon, Joy Kmt, Thomas Stanley, and Nikitah Okembe-RA Imani
Just-in-Time, Performance and the Aesthetics of Precarity by Shannon Jackson
***
HEKLER MEDIUM: organizes round-table discussions, exhibitions, and podcasts that examine the origins, mutations, and consequences of contemporary conflicts through an interdisciplinary lens generating alternative educational environments where presentation, discussion, and cross-pollination of ideas relevant to contributing political contexts can take place.

The events are hosted by HEKLER or collaborators. The team provides structural and networking support in close dialogue with the collaborator(s). The events can be invitation only or open to the public, depending of the collaborator's preference.