HEKLER MEDIUM: AnnexB's Forum Against Nostalgia
November 30, 2018 * 7-10pm * Gowanus, Brooklyn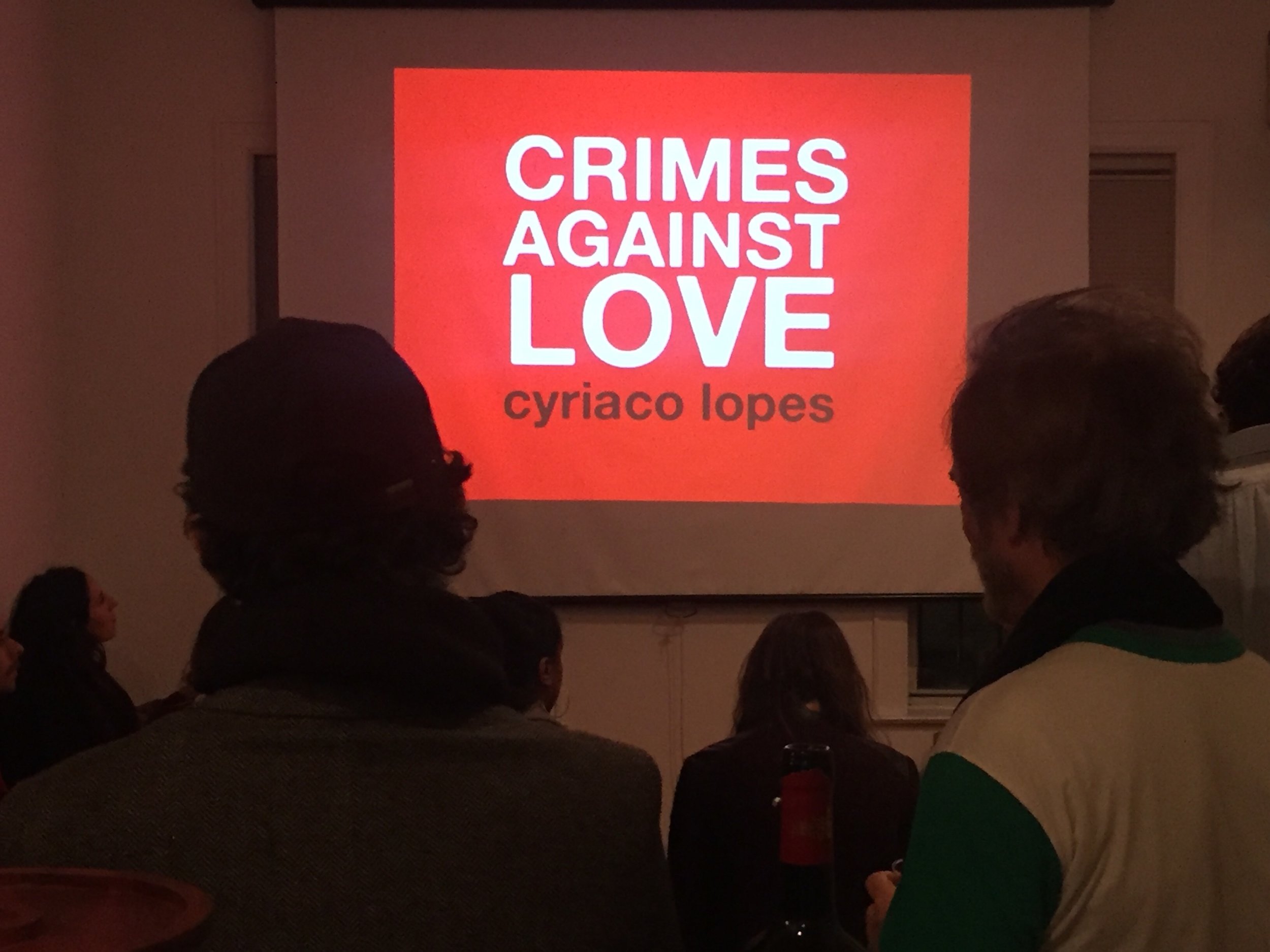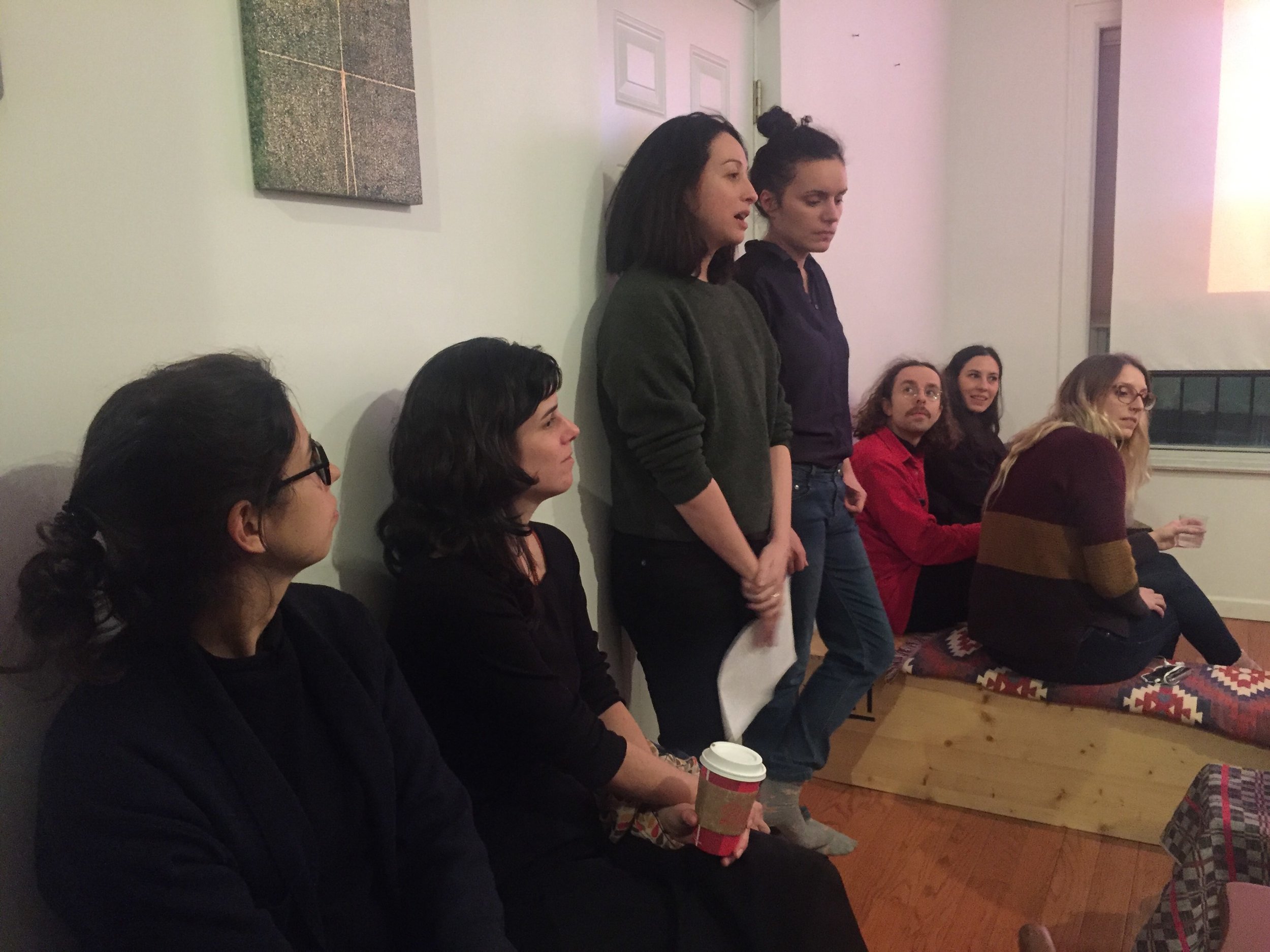 AnnexB Forum's public programming, the recently-formed workgroup Art and Culture in Contexts of Authoritarianism (ACCA) was invited to present a seminar-based panel Against Nostalgia as a part of HEKLER Medium series. ACCA members, Raphaela Melsohn (Artist), Yudi Rafael (Curator, PhD Student Columbia University), Tatiane Santa Rosa (AnnexB Creative Director, PhD Candidate UC Santa Cruz), and Felipe Steinberg (Artist), presented cases relevant to present and past contexts of authoritarianism in Brazil, in relation to Latin America, and the US. We are grateful to the special participation of artist Cyriaco Lopes, Associate Professor of Photography and Deputy Chair of the Art and Music Department at John Jay College/The City University of New York.
The forum is conceived as a space for generative conversation: to share readings, artworks, visual/activist/cultural/practices, and discuss ways that professionals working within the arts can create collective and/or individual responses to the global political climate.
Presentations
Cyriaco Lopes
"Crimes Against Love"
Brazil has sanctioned same-sex civil unions throughout its territory and hosts the largest Gay Pride parade in the world. At the same time, the country has one of the highest rates of violence against homosexuals. Crimes Against Love memorializes some of these victims of intolerance.
Each piece juxtaposes large format images of ravaged sculptures taken from Greco-Roman and Medieval collections of preeminent museums, all printed on fabric, with micro narratives taken from the newspapers. A law that would criminalize homophobia has been proposed in 2001 and is yet to be voted by Congress. Recently-elected president, Jair Bolsonaro, has threaten the Brazilian LGBTQ+ community by supporting this law.
In his performative talk at HEKLER, Lopes presented images of Greco-Roman and Medieval sculptures projected in the space. During the projection, he read excerpts of texts describing different crimes committed against homosexuals in Brazil. While reading each excerpt, often on his knees, Lopes held hands with a member from the audience. This gesture evokes images depicted in ancient Greek marble steles in which loved ones appear holding hands as a last farewell to the dying person. Many excerpts Lopes read describe the death of children who were killed due to their family members' homophobia. By evoking such loving gesture, Lopes pays a homage to these victims––a last good bye.

Further Material: http://cyriacolopes.com/crimes-against-love/
Tatiane Santa Rosa
"Indigenous Visual Culture of Activism"
http://havc.ucsc.edu/people/students/tatiane-rosa
In the 1960s and 1970s, the military turned its gaze towards the Amazon and the Northwestern areas of Brazil and, replicating the colonial paradigm, they understood those vast areas as terra nulis to be conquered. This time though, the regime had the support of eager agribusiness and elites fed by the discourses of progress and economic development of the 1950s, which had championed modernization. "Pacify to Integrate" was the motto of the Brazilian military dictatorship: the regime sought to "erase" conflicts in indigenous lands in order to occupy those territories. The actual number of indigenous peoples killed during the regime is still being examined by the National Commission of Truth in Brazil. Integration meant that indigenous peoples had to become part of the nation, or "useful citizens," and for that to happen their ways of living would have to disappear. This presentation focused on one of the most iconic protests in the history of indigenous activism in Brazil, performed by indigenous leader Ailton Krenak, investigating what were the notions of "being indigenous" that Krenak articulated through his protest.
Further Material: ÍNDIO CIDADÃO? - Grito 3 Ailton Krenak
https://www.youtube.com/watch?v=kWMHiwdbM_Q
Felipe Steinberg
"Against Spontaneity, Institutional Organization as a Form of Resistance"
Felipe Steinberg's talk, "Against Spontaneity, Institutional Organization as a Form of Resistance", focused on the potential counterproductive forces which can come out of spontaneous/pop ups demonstrations under this particular context in Brazil. The aim was to look at historical cases and possibilities of long term institutional engagements, where praxis becomes reference.

***

AnnexB is the first NYC-based organization to offer an art residency exclusively for Brazilian artists living in Brazil and across the world. AnnexB's mission is carried out through three pillars: art residency, public programs, and public art. www.annexb.net
Art and Culture in Contexts of Authoritarianism(ACCA) is a workgroup started in 2018 by Raphaela Melsohn (Artist), Yudi Rafael (Curator, PhD Student Columbia University), Tatiane Santa Rosa (AnnexB Creative Director, PhD Candidate UC Santa Cruz), and Felipe Steinberg (Artist) that focuses on studying, discussing, and articulating collective and/or individual responses to contexts of authoritarianism.

HEKLER MEDIUM: organizes round-table discussions, exhibitions, and podcasts that examine the origins, mutations, and consequences of contemporary conflicts through an interdisciplinary lens generating alternative educational environments where presentation, discussion, and cross-pollination of ideas relevant to contributing political contexts can take place.
The events are hosted by HEKLER or collaborators. The team provides structural and networking support in close dialogue with the collaborator(s). The events can be invitation only or open to the public, depending of the collaborator's preference.