HEKLER HOST/ artists and allies
August 29, 2018 * 6-9 PM * artist and allies * signs and symbols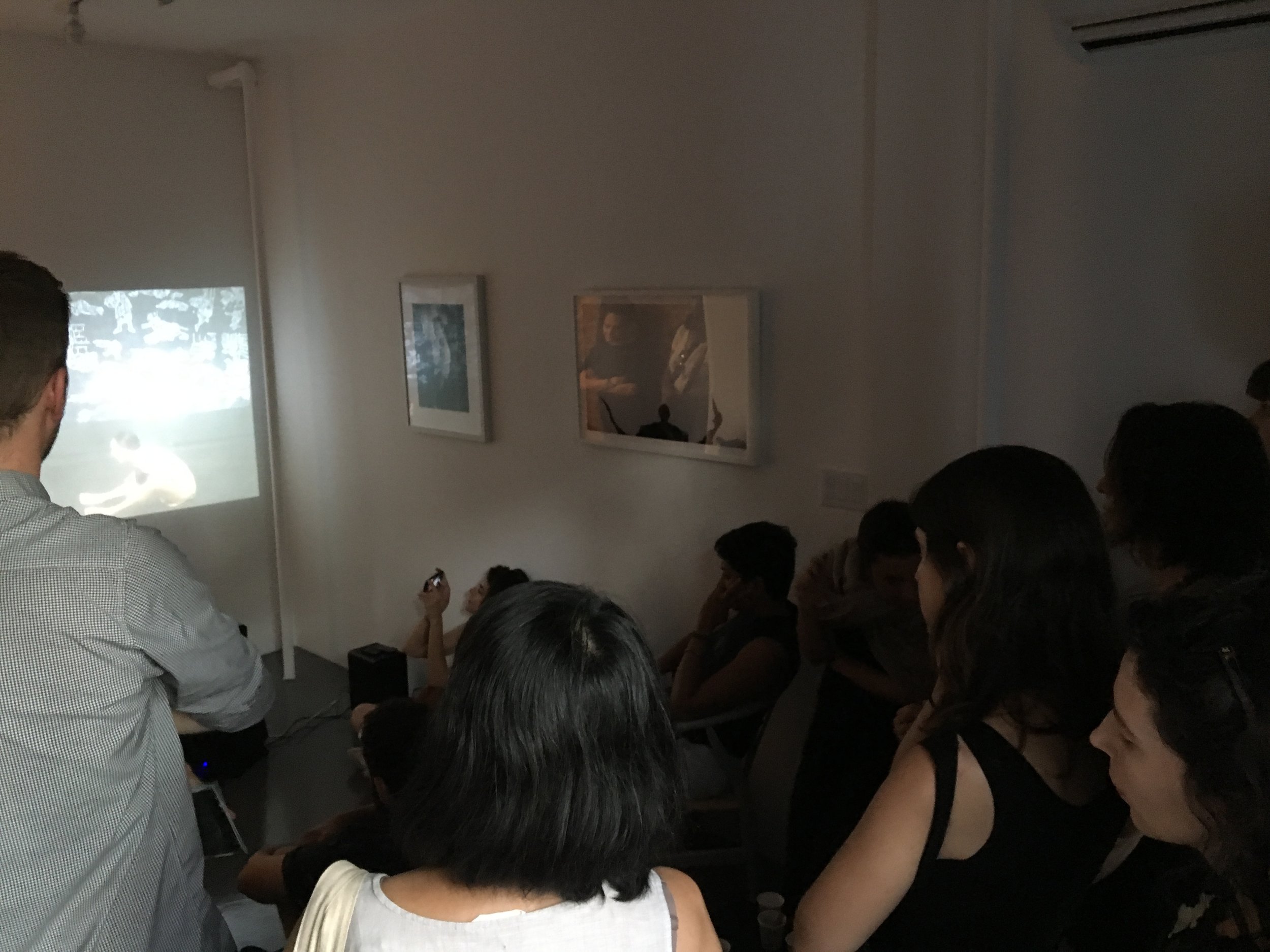 HEKLER/HOST presents a night of screenings hosted by signs and symbols gallery as a part of their artists and allies series on August 29, 2018 from 6-9pm.
Stemming from the dynamics of hospitality and conflict, featured video, photography, and animation activate political reflections on personal and collective memory of place - relationships, loss, and landscape.
Turkish coffee and rakija are served to early birds and HEKLER/HOST zines.
signs and symbols
102 Forsyth Street
New York, NY 10002
signs and symbolsTM is a contemporary art space grounded in performance. Operating nomadically since 2012, signs and symbols presented performances in New York and internationally. Their first physical space at 102 Forsyth Street (April 2018) serves as a curatorial platform and multi-disciplinary incubator bringing together diverse mediums to stimulate dialogue and creative connections. The curatorial vision is informed and anchored by the work of three important figures -- Ulay, VALIE EXPORT and Vito Acconci -- and thus encompasses performance, photography and architecture, with a focus on site-specific and performative practices, with an emphasis on the body in performance, painting and other time-based media. signs and symbols' ethos is artist-centric offering a place for experimentation and the development of work. To promote artists' interests, we offer negotiated resale royalty agreements for sales and work closely with exhibiting artists without requiring exclusive representation.
Clearing Agent by Željka Blakšić examines the book Burlington (Iowa) Once upon the time by Dan Bield and delves into the slide collection and a publication purchased from E-Bay. The subtitle of the book, A collection of Nostalgic Pictures and other Memorabilia about the Author's Home Town, succinctly gives an explanation of the subject matter. A product of nearly 50 years of living in Burlington, Iowa in the United States this volume is a collection of mostly factual stories and photographs. Through her research Blakšić finds out that Dan had a desire to excel in everything; his painting and his writing and his interest in jazz was monumental.
Blakšić takes upon herself to reanimate the photographic slides of Dan Bield and bring new information to the archival materials from half a century ago. The artist acts as an alchemist, carefully reworking each slide with a diverse array of tools. The slides are subjected to miscellaneous processes such as burning, cutting, bleaching, collage and painting. The aim is to achieve transmutation while simultaneously prolonging life to the original artwork and archive as a whole. Each slide is treated as a canvas, producing a myriad of miniature collages which is the first step in this multi layered endeavor. Blakšić then digitizes each reworked slide, scripting a sequence of scenes that are made into a montage of moving images. Blakšić grabs memories that frame the context of the city of Burlington and the author's affective recollections of his home town, reworking them physically into new forms of art.
We never know how high we are
Emily Dickinson (1830 - 1886)

We never know how high we are
Till we are called to rise;
And then, if we are true to plan,
Our statures touch the skies—
The Heroism we recite
Would be a daily thing,
Did not ourselves the Cubits warp
For fear to be a King—
The Other by Amir Husak is an experimental video that explores the invisibility of minority cultures in contemporary America. Combining a multilingual soundtrack with a variety of text sources, including Homeland Security's Application for Asylum form, the film invites the viewer to meditate on complexities of identity and belonging. Body painting by Catalina Martinez. Featuring performances by: Kristina Skovby and Leon A. James. Additional Voices: Christine Li, Meghna Damani, Laura Van Schendel, Melissa Mei, Tina Grapenthin.
MARINA LEYBISHKIS' series of documentary photographs108km in Exile, 2013-2017. Born in Uzbekistan – a Muslim country with troubled ethnic history and totalitarian regime, Marina's sense of identity is complex. Her text accompanying documentary photographs, "108km in Exile, 2013-2017", lists people deported to Uzbekistan by Stalin: Tatars, Germans, Chechens, Jews, Koreans, Russians – most to labor camps: "I grew up thinking it's natural to see many nationalities and religions under the same national roof, but I was unaware of how they got there […], physical, psychological and spiritual deportation none of them has ever really recovered from…"
Sisterhood, a hand drawn animation by Jelena Prljević, uses an abandoned house from childhood as a metaphor of home and stability. The story, written in a form of a dialogue between sisters, as signifiers of past and present, describes an intimate experience of early maturing from a child's perspective. The bond between sisters freezes time, capturing the emotional transitions that shape the landscape of a dissolving country.
Not a Cloud in the Sky is a collaborative video between Nataša Prljević and Joshua Nierodzinski assembled from personal audiovisual documentary archive. This video weaves public and private spaces using montage and video inset to trigger the anxiety, poetry, and malleability of homemaking. The viewer is invited into the individual and collective symbolic spaces to reflect on the ongoing culture of violence and suppression.
Indivisible and Inseparable, a video by Siniša Radulović, questions the meaning of homeland and related contemporary issues of post transitional countries in the geopolitical environment. Over the years, an "everlasting" progress towards alliances and unions have become nothing more than populism trend which gradually dominated over all other issues and concerns. With the purpose of amplifying those system errors, this video combines elements of recycled, generic political speeches and national mythologies with trivia and misuse of statistics. Computer interface and complex structure of overlapping footage is used in order to create a notion of transitional hybrid, a paradox representation of one's home (self) imposed image.
Halabja, 1988, a collaboration between Farideh Sakhaeifar and Isabel Umali. The work addresses the chemical attack Saddam -- with support from his western allies including the U.S -- carried out against the Kurds of Halabja of Iraqi Kurdistan. Saddam committed the genocide in the closing year of the eight years war between Iraq - Iran in which Iraq invaded parts of Iran. He used chemical weapons in Halabja forty-eight hours after the Iranian forces peacefully entered the village. As a result of the attack, 3,200 to 5,000 lives perished and 7,000 to 10,000 were gravely injured. To this date, the chemical attack on Halabja remains the largest case of using chemical weapons against the civilians. This piece is a poetic interpretation created from collective narratives of the attack survivors.